"Happy 40th Anniversary to the Malaise Era", proclaims Rob Sass, Publisher of Hagerty Classic Cars magazine in a recent post over on Autoblog.
Mr. Sass, great to see you're using your expertise to write about automobile history. And it's great that you've decided to write about the Malaise Era's beginning 40 years ago, with a list of four of the "worst". We've covered just how awful "worst" lists can be before, but I've got a few bones to pick with you about this particular post.
1. The term "Malaise Era":
Please give credit where credit is due. The term "Malaise Era" didn't just come "to be known" as the automobile era beginning in 1973. One of my favorite auto-journo scribes, the remarkable Murliee Martin coined and defined the phrase. And if you're going to crib someone else's verbage, at least explain it correctly. Martin clearly defines that the Malaise era ends in 1983 – not 1985.  It didn't take me long to find the very post that details just how the phrase came to be. Martin states:
"I invented the term during my first few months at Jalopnik, as a semi-ironic reference to Jimmy's speech and the general sense that the future would suck permeating the formative years of my generation."
It's not hard to give credit where it is due, especially since you're writing about a very specific topic, so what gives?
2. Ford Mustang II:
A far cry from being the car that "nearly killed the Mustang franchise", it's actually the car that allowed the Mustang to continue it's very existence. The Mustang II was very much a page from the original Mustang as well: derived from an economy car (Falcon/Pinto), hitting the market with almost perfect timing (creating and then sating a desire for affordable midsize sporty car/the perpetual 1970's fuel crisis's) and sold to tremendous numbers (550,000 for '65/400,000 for '74). Observed from the next millennium, the Mustang II doesn't offer much, but how many hot-rodders have used the II's front suspension? Or how about being Motor Trend's Car of the Year in 1974?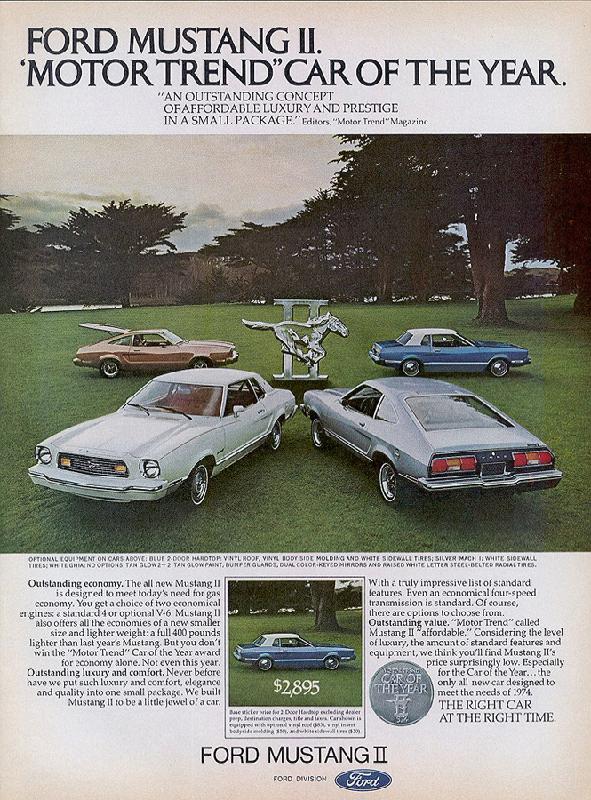 Okay, so that last one doesn't hold much weight, but overall, the journalists of the mid 1970's didn't see the Mustang II as the being all that awful.
Tom McCahill, the august and respected elder statesmen of auto-journalism also had decent things to say about the Mustang II.
"In summing up, the new Mustang IIs are interesting if not exciting. They're even a bit sporty in looks, though it tends to be kind of a neighborhood sportiness, for zipping down to the miniature golf links or to a Dairy Queen. Quality, which Ford has talked so much in connection with this car, does seem close to tops."
In 1975 Car and Driver compared the Mustang II to the Monza 2+2 and noted:
"Both are compact and highly maneuverable coupes that transport two in first-class comfort. Both offer V-8 engines and taut suspensions for spirited driving yet provide a measure of utility with their hatchbacks and fold-down rear seats. On top of these basics are option lists that allow almost infinite variations between the lean machine and the opulent tourer. The Mustang II and the Mon­za are exactly the sort of sporting automobiles that we have been waiting for."
I'll end my Mustang II rant with the thought that everything is relative to the era in which it was created. Compared to the most basic Hyndai Accent today, the Mustang II is a joke.  In 1974? It was a breath of fresh air that allowed Ford's pony to ride another day, on a much improved platform, the Fox body…which brings us to my third gripe:
3. The Ford Fairmont: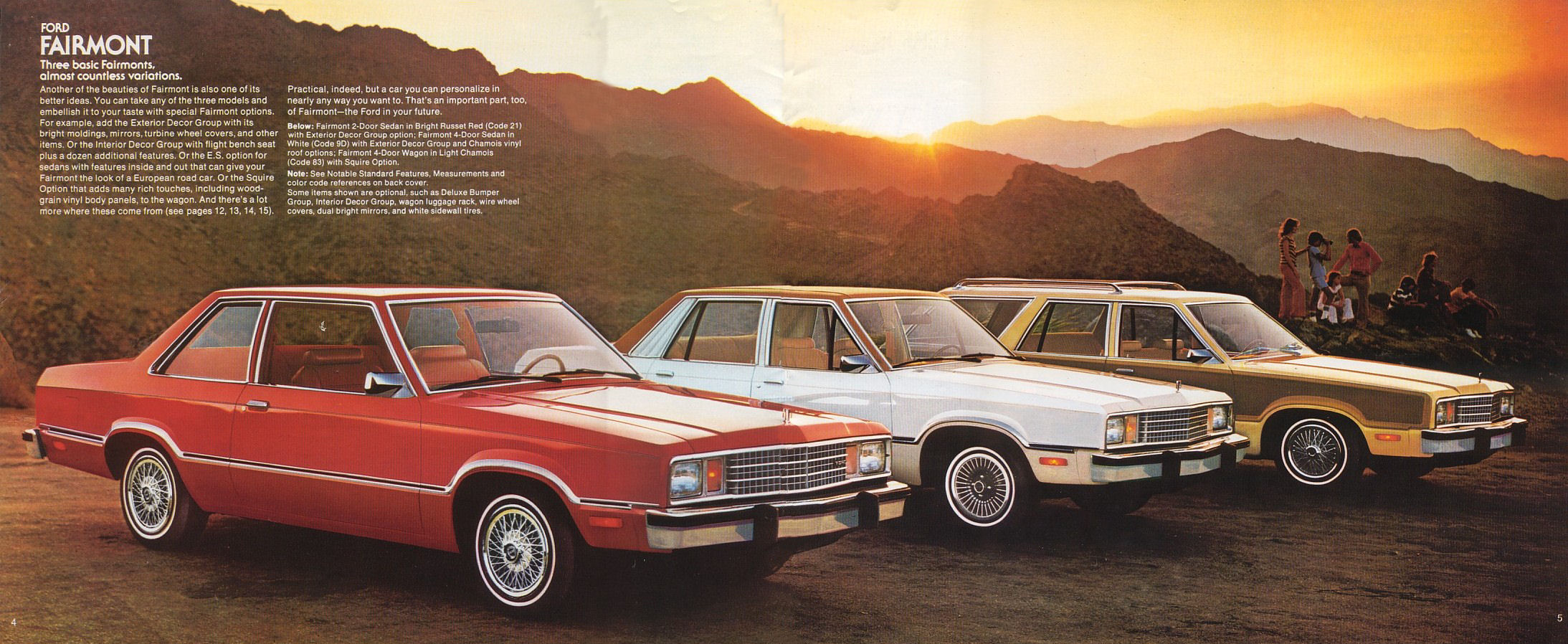 David E Davis, writing in C&D in 1977:
"The new Fairmont and Zephyr are sensational cars…they are great cars, and exciting ones." 
From the same issue, C&D put the Fairmont (with an available 302 V8) to the track, and came back with 9.4 second 0-60's and 106 mph top end. Calling it an American Volvo (as does Road and Track, apparently the dimensions for the 240 series is almost dead on – Jim, don't get too upset about that), C&D just couldn't laud the Fairmont enough. And why not? It would soldier on through the early 90's and help usher a significant portion of Ford's portfolio in the early 80's (Mustang, Capri, Thunderbird, Cougar, second gen Granada, LTD, Continental…)
Ford managed to move 2.1 million Fairmont/Zephyrs over five years, and that doesn't even count those direct descendants. The Fairmont was a leap above what other domestic manufacturers were peddling in 1978, and provided sound, basic transportation for millions of people. Compared to the other two mid-sized cars that were launched around the same time that were supposed to be "game changers" (the Volare/Aspen and the X-body GM cars), the Ford succeeded in almost every measure.
Mr. Sass, by picking what are stereo-typically "bland and gutless" cars of this era and not actually putting any thought into your list, you simply show your desire to churn out mindless drivel that adds nothing new to the conversation, faux-celebratory nature or not.